A Spa for You Sedona Day Spa
---
Awarded TripAdvisor's 5 Star Certificate of Excellence 6 consecutive years, Sedona's Premiere Boutique Day Spa offers individualized Signature Massages, Spa Treatments, Body Wraps & Japanese facial massage designed to rekindle, nurture & balance your body's own natural healing rhythms. Licensed, experienced therapists, organic skincare, pure essential oils, world class modalities & superior healing therapies brought together with one intent to Relax, Restore & Rejuvenate your Body, Mind & Spirit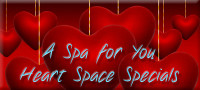 A Spa for You Sedona Day Spa
Between all of your wonderful Sedona outdoor adventure plans, don't forget to plan your Sedona inner adventures as well…
A gift of time is a gift of the heart and an experience shared forever. And planning a Heart Space moment for yourself, with friends, or loved ones is the beginning of creating one of those special moments in life.
Our Sedona Heart Space Specials are our way of supporting your celebration of life in that unique way that caring for yourself and others can be – by giving the gift of time and a spa-ahhh experience.
Book any of A Spa for You's Heart Space Special sessions and save 15% off list session pricing.
Allow A Spa for You the opportunity to create a special spa-ahh memory for you and your loved ones. Discover the distinction of our individually customized, all inclusive Signature Massage Sessions, Body Wraps, Japanese Facial Massage, the Sedona Touch of Gold Journey, the Touch of Healing (aromatherapy)… and more in the serenity of Sedona's Premier Boutique Day Spa.
…Let us pamper you with world-renowned, blended healing modalities applied by experienced, nationally licensed massage therapists using Organic, botanical body care products, hot stones and 100% pure essential oils all brought together with one intent… to Sooth, Relax and Renew your Body, Mind & Spirit.
A Spa for You has been awarded TripAdvisor's 5-Star Certificate of Excellence for 6 consecutive years and was inducted into its Award of Excellence Hall of Fame in 2015 for our consistency in providing the outstanding individualized spa experiences.
Coupon Provided By:
Visit Sedona
| Valid Through: 01-31-2017
Print