Our home-based art studio and jewelry gallery offers an Exclusive Shopping Experience. Stays at our B&B include private showings of our designer quality Jewelry at wholesale prices. Crafted by expert artists with 30 years in the art and jewelry trade. Other visits by appointment only. On-line Store.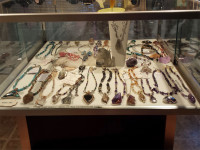 A Journey Through Art
Join us for exclusive weekend Jewelry Getaway packages at our B&B and home based gallery. Our Custom-made Jewelry Designs are uniquely tailored to stimulate your personal transformation and highest aspirations. We offer personalized selection assistance to match you with your perfect gemstones! A home based gallery setting for private consultations at wholesale prices.
15% off pre-paid gift certificates available on our website. All other visits are by appointment only. See our website for information.
Coupon Provided By:
Visit Sedona
| Valid Through: 12-31-2016
Print