Tlaquepaque Arts & Crafts Village
---
Tlaquepaque, a Sedona landmark since 1970's, is modeled after Guadalajara and offers a unique experience for private events and weddings. Along with the quaint, old world style Chapel, there are intimate courtyards, patios and a terrace making. Tlaquepaque the perfect location for any event.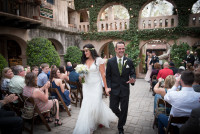 Tlaquepaque Arts & Crafts Village
Introducing an all inclusive package including the Chapel booking, Bridal Suite, Wedding Cake, Floral and 3 Course dinner at René.
928-282-4838
Coupon Provided By:
Visit Sedona
| Valid Through: 12-30-2017
Print